NovaMova's Iryna needs your help
#saveiryna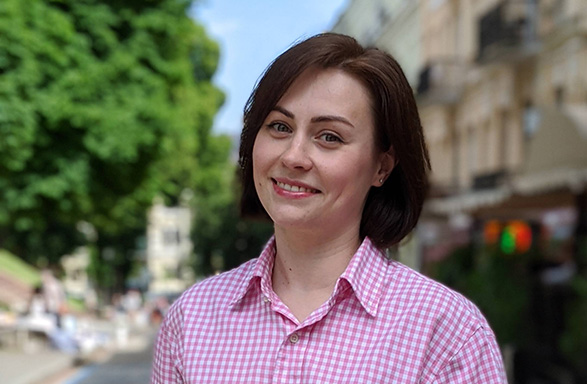 Our colleague and friend, Iryna, who is our programme coordinator in Kyiv, has been diagnosed with Hodgkin's Lymphoma, a form of cancer.
The total cost of treatment and rehabilitation will be $120,000 – a prohibitive amount for Ira's family. All the team at NovaMova are working to help raise this sum. Below you can read more about Ira's story.
Letter from Novamova founders
Dear Friends,
If you were a former student of NovaMova, you may remember our Ira, always smiling and cheerful, who meets every student and introduces them to the school. Ira is very responsible and attentive, she has been working at the school for over 11 years. She is not just an employee - she is a member of our large family.
Sadly, a great sorrow has come to our family - our Ira is seriously ill. In January 2021, Ira was diagnosed with Hodgkin's lymphoma, a form of cancer.
During her treatment so far this year, Ira has already undergone pre-medication, 12 chemotherapy procedures and 2 biopsies. Unfortunately, this has not resulted in remission from the cancer. Ahead of her is high-dose life-saving therapy and autologous stem cell transplantation.
For treatment and rehabilitation, Ira has been prescribed Adcetris, one of the most effective drugs for treating this condition, at a cost of US $ 4,000 per ampoule. More than US $ 120,000 will be needed for treatment and rehabilitation therapy. This treatment is not available free of charge within our health service and the amount is incredibly high for Ira's family.
The entire staff of the school are rallying to help Ira. We are determined to raise this amount. Thanks to the assistance of one of our former students, Keith Gibeling, a dedicated fundraising account has been created to raise money for Ira's treatment on GoFundMe.com, the most trusted online fundraising platform.
We will be grateful to you for every dollar you can donate, to help save Ira.
We would like to assure you that all the funds raised will go directly to pay for Irina's treatment and rehabilitation.
Sincerely,
Co-owners of Novamova
Andriy Kononenko and Gela Turabelidze
P.S. If you have the opportunity to share this, please click the share button on our GoFundMe.com campaign.
P.S.S. If you have any other suggestions to help Ira, please do not hesitate to contact us.
Read more
Video address from Gela Turabelidze,
Novamova Co-founder