NovaMova School in Kyiv is an accredited member of several international organizations that guarantee that NovaMova complies with the high international standards designed specifically for language learning purposes.
Since its foundation in 1991, EAQUALS has become the foremost association of providers of language services in more than 30 different countries. EAQUALS grants its quality label to schools and institutions that fulfill its high inspection standards. Only institutions that fully comply with EAQUALS standards can be accredited and therefore have the right to display the 'Accredited Member' logo. We are proud to be able to display this logo*.
* Accreditation is valid for Kyiv only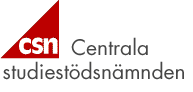 CSN is the Swedish National Board of Student Aid, a state authority which grants students with Swedish citizenship loans and funds in order to study abroad. Each institution must fulfill several stringent criteria in order to be considered as a school that could be funded by CSN. Our school has been recognised by CSN as an institution that consistently delivers high-quality, affordable education.