In this course you will learn about the origin of some Russian idioms, their history and how to use them today. We will practise using them by finding synonyms and antonyms. Biblical expressions are a rich source of colloquialisms, closely tied with Russian history and very expressive. We will also learn idioms connected with work and idioms about using hands or arms. Finally we will study the many idioms associated with the Russian word for 'soul' and learn how these are used to describe emotions and states of mind. By the end of this course, you will be using Russian idioms naturally and accurately in your speech!
Aim
The aim of «Russian Idioms» is to acquaint foreign students with the most important Russian idioms and teach them to correctly use them in speech. Any feeling - love, delight, surprise, fear, or how we feel about what's happening - can be expressed much more precisely and emotionally if we use idioms.
By taking this course and completing the included exercises, you will:
Analyze Russian idioms in order to understand their meaning on your own;
Understand idioms and match them with their definition;
Replace collocations with idioms;
Use idiomatic expressions in speech and accordingly correctly form sentences with various constructions;
Make use of the idiomatic riches of Russian and more fully take part in conversations;
Move your communicative competence up a notch.
Topics
Lesson 1. Russian Idioms
In this lesson, you will meet interesting, frequently used idioms that utterly confuse foreigners (for example, бить баклуши). Find out the history of their origin, their meaning today, and learn to use them in your speech. In addition, we will put together a list of the synonyms and antonyms for these idioms.
Lesson 2. Biblical Idioms in Russian
In this lesson, you will meet 10 well-known Biblical sayings, grasp their particularities, and will immediately want to put them to use in your speech. We will also discuss the unusual fate of Biblical idioms in Russian, which is closely tied to the history of Russia. We actively use these idioms in every style and genre of Russian, and it lends our speech a particular expressiveness.
Lesson 3. Russian idioms with the verb работать (to work)
In this lesson, we will look at idioms with the verb работать, which characterize the relationship of the Russian people with work. Given that work is a necessary part of life and society, Russian is full of idioms with this verb. Understanding and dividing idioms such as работать засучив рукава or работать спустя рукава is quite difficult. But together we will make sense of their meaning and overcome obstacles in understanding synonyms. You will soon be using them in your speech with ease.
Lesson 4. Russian idioms with the word руки (arms/hands)
Our hands and arms are invaluable in our daily activities, and so idioms with the word руки naturally make their way into conversations. In the lesson you will learn how to match idioms with their definition, understand their meaning, and replace collocations with idioms.
Lesson 5. Russian idioms with the word душа (soul)
This group of Russian idioms is one of the most numerous, interesting, and mysterious in meaning. By learning the idioms in this group, you will find out more about Russian character and mentality, and about how Russians express their feelings and emotions. Find matching and opposite pairs for these idioms, and then reinforce your knowledge with exercises.
Instructor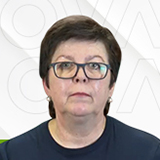 Elena Panchenko
| Russian teacher
Education: Taras Shevchenko National University of Kyiv, 1987
Teaching experience: since 1991
«I have been teaching Russian as a foreign language for over 20 years in various roles that included the preparatory faculty for foreign students in Taras Shevchenko National University of Kyiv, advanced Russian instruction and teacher training, and retraining center for foreign citizens. I have published 15 scientific articles and textbooks on methods of teaching foreign languages.»
Structure
5 hours of distance learning in Adobe Connect or Zoom in a group with a teacher;
5 hours of distance learning on the platform Canvas - student works individually. After every lesson, complete practical exercises on this learning platform to reinforce your knowledge
1 hour bonus lesson: summarize material, question-answer with teacher in a group;
class size is limited to 6;
access to all course materials;
certificate of completion.
Schedule
Start Dates:

17 May (2 weeks)
07 June (2 weeks)

Online group lessons are run three times per week on weekdays during the two-week period.
Timing is approximately between 18.00 and 21.30 Kyiv time.
-->