Do you mostly understand what people say, but are still confused by some Russian grammar? Then this course is for you! In this course, we will review and practice the most difficult Russian grammar topics at the intermediate B1 level.
Aim
The goal of this course is eliminate gaps in your knowledge of Russian grammar at level B1. During lessons, you will analyze the course topics in detail using various examples. You will:
take your existing knowledge and transform it into a convenient and easy to use system;
learn life hacks from your teacher that make grammar easier;
understand and begin to put into practice the main rules of Russian grammar in your speech;
express you thoughts more accurately in writing and speech;
understand written and oral speech better.
Topics
Lesson 1. Aspects of the verb (Perfective and Imperfective)
Verbal aspect is a topic full of subtleties with plenty to review at B1 level. We'll talk about how to form perfective and imperfective verbs and clear up their meaning before putting them to use in practical exercises.
Lesson 2. Verbs of motion with prefixes
Just when you've learned the bare verbs of motion, along come their prefixed brothers - to enter, exit, go up and come down, and so on. We'll make this topic accessible, with lots of clear explanations and examples, to help you effectively solidify your skills.
Lesson 3. Expressing time in simple sentences (the question КОГДА?)
Being able to answer the question "When?" is easy when you've seen and practiced the most common ways to answer it; in this lesson, we provide a clear structure and opportunities to answer this important question.
Lesson 4. Translating "for" into Russian
Some of the hardest things to translate are prepositions, because some things carry over, but others out you as a foreigner. Avoid common mistakes and speak beautifully by learning how Russians say "for you" - it's not just "для тебя"!
Lesson 5. How to say "the same" in Russian
ТОТ ЖЕ, ТОТ ЖЕ САМЫЙ, ТАКОЙ ЖЕ or ОДИНАКОВЫЙ? Is ТОТ ЖЕ "the same" house or store, or "the same as" your house or that store? Learn the specific meaning of each choice through examples and practice, and you'll soon be using them fluently!
Instructor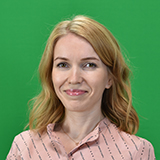 Anna Muratova
| Russian and Ukrainian teacher
Education: Taras Shevchenko National University of Kyiv, 2005
«I work as a teacher at the international school NovaMova for more than 10 years now, I've been teaching Russian and Ukrainian to foreigners. I was born and raised in Ukraine, and these languages are native to me. During my lessons, I strive to make the learning process interesting and enjoyable.
For me, the work of teaching isn't just a profession, it's my style of life. Languages are my inspiration, hobby, and work!

Welcome to my lessons!»

Structure
5 x 60 min. online group lessons with a teacher on Zoom/Adobe Connect;
5 hours of distance learning on the platform "Canvas" - student works individually. After every lesson, complete practical exercises on this learning platform to reinforce your knowledge;
1 hour bonus lesson: summarize material, question-answer with teacher in a group;
class size is limited to 6;
access to all course materials;
certificate of completion.
Schedule
Start Dates:

17 May (2 weeks)
07 June (2 weeks)

Online group lessons are run three times per week on weekdays during the two-week period.
Timing is approximately between 18.00 and 21.30 Kyiv time.
-->