August 20, 2019
Why did you choose Kyiv to learn Russian? We posed this question to our students learning Russian from different countries. Based on their answers, we were able to find 10 main reasons why Kyiv is becoming more and more popular as a place to learn the Russian language.
1. You don't need a visa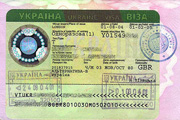 If you're from the EU, US, Canada, Japan, South Korea, or Switzerland, you don't need a visa to come to Ukraine if you're going to stay less than 90 days.
No visa fees, no processing delays, no time without your passport, no hassle – simple!
2. Kyiv is the 3rd largest Russian speaking city in the world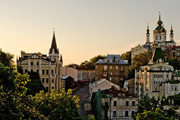 From the end of the 9th century to the beginning of the 12th, the city of Kyiv was the centre of the East Slavic state of Kyivan Rus from which the countries of Russia, Ukraine and Belarus would emerge.
After the Mongol invasion of 1240, regional power shifted north, and by the 15th century was centred on Moscow. For centuries much of Ukraine was under the rule of the tsars or the communists in Moscow, until its independence in 1991.
Nowadays, the historical ties remain, and the Russian language still dominates in Ukraine's capital. 85% of people use it as their first language, so not only will you be learning in the classroom, but also in your everyday interaction with people around you.
3. Kyiv is safe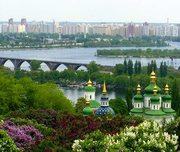 Ukraine has experienced a conflict in its east, but that's a long way from Kyiv. Even in the east, fighting has almost stopped because of a cease-fire. The most you'll see of the conflict in Kyiv is a few young men in camouflage either heading to the front or returning home, and volunteers collecting money, clothes and equipment for the soldiers.
Violent crime, whether motivated by greed, racism or religious differences, is rare. As is the case in many big cities, a vibrant night-life, a liberal cosmopolitan atmosphere and a jumble of personalities, nationalities and regionalities cannot exist without some level of crime. This mostly amounts to occasional pick-pocketing, and visitors are advised to take common-sense measures against petty theft.
4. Low cost of living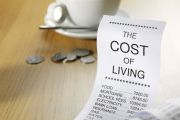 Ukraine's currency, the hryvnia, has collapsed in the last two years. That's bad for Ukrainians, but great for visitors. You'll find that most things here are much cheaper than in the west, or even in Moscow or St Petersburg.
From beer to burgers, everything here comes out at less than half the price in most Western capitals.
Food, transport, drinks, accommodation – the cost of living here is much lower than in the west, so you can enjoy your time here without worrying about your wallet.
5. There's a lot to see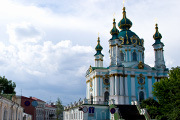 Kyiv offers an intriguing mix of cultures that reflect its location at the crossroads of Europe and Russia. Nowhere is this more evident than in the historical monuments around the city.
If beautiful places are your thing – Kyiv is the place to come! And the best thing about these sites? They're not overrun by tourists like in other cities such as Prague and Budapest.
There are also a number of interesting museums, including the Museum of Russian Art and the new Pinchuk Gallery, which displays modern art.
6. Kyiv is a European city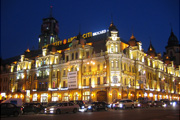 Think of Kyiv as a city of morbid grey tower blocks? Think again. As well as its fair share of Soviet architecture, Kyiv boasts quiet cobbled streets and a burgeoning café culture.
In winter, cafés provide a great place to warm up; in summer they sprawl out onto the streets to enjoy the fine weather. Summers here are hot, with temperatures around 30 degrees centigrade.
There are plenty of parks around the city to take a walk in – the largest is on the hill overlooking the Dnipro. One of the best things about Kyiv is the fact that its centre really is navigable on foot. Kyiv is also one of the safest and cleanest cities in Eastern Europe.
7. People are friendly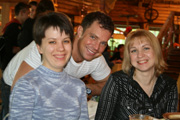 Forget about the gloomy faces that people associate with much of Eastern Europe, Ukrainians are known for their sunny temperament and warm hospitality.
Never afraid to swap a story or a kind word, Kyivans are used to a slower pace of life than their Slavic cousins in Moscow.
Step onto a zebra crossing and cars will stop; watch as the person in front of you holds the door for in the metro. How many other cities in Eastern Europe would you see that?
8. Vibrant night life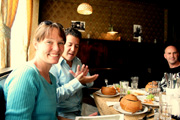 Kyiv has enjoyed a boom in recent years in places to go for a drink and a bite to eat. From burger joints to swish restaurants to cocktail bars, there are plenty of places to choose from, all with great prices and low prices.
There are a number of good restaurants, offering a taste of local cuisine, as well as Indian, Italian and Czech, to name but a few.
After dinner, enjoy a drink in a city centre bar, or head on to a concert, the opera or, if you are feeling brave, a play in Russian at one of the numerous theatres. Whatever your taste in food or culture, there's something for you in Kyiv.
9. Plenty to see outside Kyiv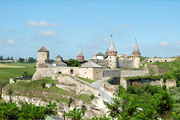 There is always much more to a country than its capital, and Ukraine is no different.
Odessa is a multicultural city on the south coast with a famous opera house, beaches and a relaxed atmosphere.
The Carpathian mountains are a beautiful site for walking and sports. Lviv in the west is a quaint old city where the Austro-Hungarian heritage seeps from the walls of its numerous cafés.
10. See where recent history took place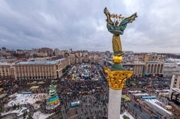 Kyiv experienced a revolution two years ago, where ordinary people gathered on the main square and overthrew a dictator. Some of the protesters were killed in the clashes, and there are plenty of memorials to the events around the central square.
It may only be two years ago, but the events are already part of the city's fabric. Talk to people at the memorials about what happened--many are proud of their part in fighting for their country's future and happy to share their memories.