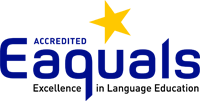 NovaMova is proud to offer you our well tested Russian language immersion programs that will involve you in using your speaking skills actively, on Russian lessons in the classroom environment and outside of it.
NovaMova collaborates with higher educational institutions around the globe and the school also welcomes individual students who need to know the Russian language for their work, education, government service or pleasure. Our time proven teaching approach and methodology only expands and improves with time.
In 2016 NovaMova International Language School in Kiev was inspected by Eaquals (The European Association for Quality Language Service) and re-confirmed as an accredited member of Association.
To power your newly acquired knowledge in class you can have an individual lesson with a teacher or have a great peer-coaching session. The one-on-one Language Tandem methodology is real-world tested and lets you bring what was learned in class to real-time situations. The peer-coach will correct your language if necessary and perhaps can give you alternative routes to express your mind. NovaMova also keeps great Russian-speaking hosting families for our students. You will get to know warm and generous people who know how to cook and who know how to involve you in conversations.
For you to be able to use your new language immediately in daily situations can not be overestimated. NovaMova is made of great communicators and we enjoy to offer more of interesting activities to you outside your Russian lessons. With Russian courses at every level we are ready to teach everyone who wants to learn Russian in a most effective, innovative way possible!